Types of Insulation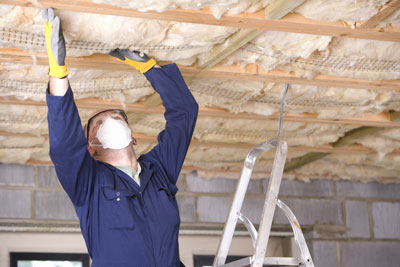 No matter where you install insulation, it is a wise investment throughout your home. Your energy efficiency and comfort increase with every insulation project. Start with your attic and move all the way down to your basement or crawlspace.
Fiberglass Blow-In and Batts
Fiberglass insulation is a cost-effective, energy saving product made from molten sand and 50% recycled glass which is spun into fibers.
Fiberglass Blow Insulation
Blown-in or loose-fill fiberglass insulation comes in highly-compressed bags. To properly install this type of insulation, we use a professional blowing machine and calculate the precise number of bags to achieve the desired R-value. The blowing machine is designed to open and fluff the insulation before blowing it through a hose. The attic is one of the largest sources of potential heat loss in a home and often one of the most neglected areas when it comes to insulation–especially in older homes. We can easily improve your existing insulation in your attic by blowing a blanket of fiberglass to increase your R-value. The higher the R-value of the insulation, the more resistance to heat flow it can provide.
Fiberglass Batt Insulation
This form of fiberglass consists of pre-cut panels of insulation available in a variety of lengths, widths, and R-value. They can be found with or without facing: batts with facing are used on exterior walls, attics, basements, ceilings, and floors. The actual facing material serves as a vapor retarder and makes installation easier. Fiberglass insulation is installed between studs at the ceiling and exterior walls of all building structures as a thermal barrier to increase energy efficiency of the building. We offer a wide range of products available from R-11 to R-38. Fiberglass insulation is also installed on interior walls to minimize sound transmission from room to room. The fiberglass products we offer are LEED certified and GreenGuard certified.
Spray Foam
This alternative to fiberglass is most commonly used in new construction. Spray foam insulation is applied as a liquid that expands to nearly 100 times its initial volume, creating a thermal, air, and moisture barrier. Spray foam can minimize energy loss and as it forms a barrier keeping dirt, pollutants, and allergens out. The result is seen in the form of more comfortable, energy-efficient, and healthy surroundings. We are professionally trained and offer free estimates.
Foam Sheathing
Rigid-foam sheathing insulation is used in commercial and residential construction where continuous insulation and/or high thermal efficiency is required. The most commonly used rigid insulation is either expanded/extruded polystyrene board or polisocyanurate board insulation. The product is predominately used as thermal insulation on concrete walls, block walls, and commercial roofs.